Student Loan Relief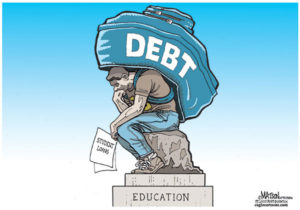 Did you take out student loans for school?  Did you co-sign student loans for a child or relative?  At the time, you probably thought you were making a responsible decision to invest in the future, and you were.  What you didn't realize was that the economy would fall on hard times and the good-paying jobs that you or your child anticipated getting would disappear.  You also didn't expect the student loan payments to start using up all of your disposable income.
Today the economy continues to be challenging for old and young alike, making management of student loan payments difficult.  If you've fallen behind, you might be getting harassing phone calls, threatening collection letters, or even had a lawsuit filed.
The good news is that you have options.  Regardless of your situation, there are steps you can take to manage or eliminate your student loan debt.  Moreover, even if you have fallen behind you have the right to be treated with respect by collectors.
Different Options for Different Student Loans
There are two kinds of student loans: federal and private.  To find out what kind you have, go to the National Student Loan Data System at  http://www.nslds.ed.gov/ to see if yours are listed.  Only federal student loans appear at the site.  If your loans are not listed, they are private loans.
Which kind of student loans you have will determine how we can help you.  Broadly speaking, federal loans can be managed as long as you stay out of "default." Default, for most loans, is a failure to pay amounts due for more than 270 days.  If you do default, you run several risks.  First, you risk making yourself ineligible for future education loans.  Second, your tax refund or social security check could be seized.  Finally, your wages could be garnished without a judgment.  The good news is that if you have defaulted, there are steps you can take to get out.  Such steps may include two strategies called 'rehabilitation' and 'consolidation.'  Once out of default, you become eligible for alternative repayment plans, which may include income-based repayment (IBR) or income contingent repayment (ICR).
Private student loans are more challenging to manage, because the banks that extended the loans do not have the same relief programs.  However, under certain circumstances private student loans can be gotten rid of entirely, especially if the original lender sells your loan.  Also, because the loans are private, the lender doesn't have the same rights as with federal student loans.
Call For Help With Student Loans Today
Call the Law Office of Emily Gomez today at (412) 378-5854, or contact us to learn more about your options for managing or eliminating your student loans.